JOHN R. WIGINGTON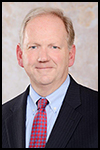 John attended Furman University and earned a BGS from Columbia International University.  He went on to complete the Kaplan University Financial Planning Education Program.
John began his financial services career as a Financial Consultant with Merrill Lynch Company in Greenville, SC in 1989.  Ten years later, he joined A.G. Edwards, a predecessor firm of Wells Fargo Advisors to take a team approach in providing personalized financial advice for individuals and families.  He is a member of the firm's Premier Advisor Program.
John has been an active member of the local community for nearly 20 years.  He is involved with St. Luke's Church, Bakala Foundation USA, Brain Gain of Hilton Head and Opportunity International.  John and his wife Frances reside on Hilton Head Island.  They enjoy hiking especially in the mountains of North Carolina.