LEADERSHIP TEAM
Carl Martin - Executive Director
"I love to play golf, read and eat bacon cheeseburgers."
"I mentor because I was mentored by the best and because people never get anywhere in life by themselves."
A Life Coach with VisionVentures, Inc., Carl specializes in performance goal-setting and relational skill development for Pastors, executives, business leaders, and other entrepreneurs.
Carl graduated from Clemson University with a degree in Political Science where he was the smallest player on Danny Ford's National Championship Football Team; Carl played all four years and lettered two years. He played in every game his junior and senior seasons as Clemson posted a 21-1-1 record. Head Coach Danny Ford is quoted as saying about Carl in 1981,
"Carl is a super person. Pound for pound he is the toughest player on the team and possibly the strongest. He has a lot of pride in his team and this school. It means a lot to us to have a player like Carl Martin on this team."
Carl completed his Masters Degree from Southwestern Baptist Theological Seminary in 1987 and earned his Doctorate degree from Southeastern Baptist Theological Seminary in 1998.
He has served two churches as Lead Pastor, planted a church and has worked for the South Carolina Baptist Convention on the Church Planting Team. He recently completed a role as Associate Pastor of Adult Ministries at Low Country Community Church in Bluffton who welcomes 2000 people in their weekend worship venues.
He is celebrating 34 years together with his wife, Peggi Nabors Martin of Greenville SC, and the Martin's have one adult daughter, Lauren.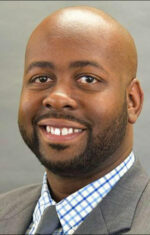 Ricardo Perry - Program Director
Ricardo was born and raised in the heart of North Charleston, South Carolina, and overcame academic obstacles to graduate from Septima P. Clark Academy in 2002.  He is currently completing his Bachelor of Science degree in Criminal Justice.
In 2005, Ricardo began working at Palmetto Behavioral Health in Summerville, where he developed his passion to work with at-risk youth. In 2007, he became a Police Officer for the City of Hanahan, and later became a School Resource Officer for Hanahan Middle School, where the true intent of his life's purpose was revealed.
As a result, in 2010, Ricardo, started The Distinguished Gentlemen's Club, a program with a mission to guide young men in grades 3-12 through the often challenging transitions from childhood to manhood through intentional mentoring. The aim of the Club was to raise servant leaders in the community through character building, promoting positive relationships, and establishing effective goal setting practices.
Ricardo's honors include:
Police Officer of the Year for the City of Hanahan in 2011
School Resource Officer of the year for the State of South Carolina in 2011
Award of Merits – Fraternal Order of Police Lodge #3 in 2011
The Distinguished Gentlemen's Club received several grant awards from Senator Marlon Kimpson and has been recognized by Senator Tim Scott.
Recognition by The Omega Psi Phi Fraternity for service to youth development in 2016.
Officer Gregory Alia, Heroes In Blue Award in 2017
The Exemplary Servant Leadership Award- Lowcountry Youth Services in 2019
Author of "A Gift Worth Fighting For"
With the support of his devoted wife, Kristen, beloved children Symone, Ricardo Jr., and little brother, Amonte, Ricardo continues to press forward with the mission of expanding and extending opportunities to reach the next generation of servant leaders.  In his leisure time, Ricardo enjoys watching good movies, sitting by the water's edge, and spending quality time with his family.
Ricardo, firmly believes that his life is not his own and that all he does is in service to his God. and lives by the words of his risen Lord, "I am here, not to be serve but to serve others."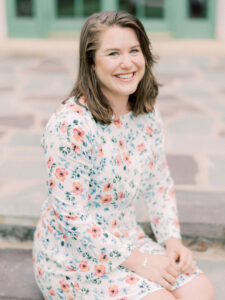 Megan Tice- Associate Development Director
Megan is an Asheville, North Carolina native with a special place in her heart for the American South and its wide range of cultures, landscapes, and people.
Megan attended the University of North Carolina at Chapel Hill where she earned a BA in Public Policy with a Concentration in Poverty Reduction. Following college, Megan worked for the Public Policy department as the Special Event Coordinator and Program Administrator for the Washington DC internship program for students. In this space, Megan discovered her passion for helping young people find their calling and become passionate, educated citizens. But, she knew there was a gap in her education so she returned to UNC where she received her MA in Folklore with a special focus on the American South and Community Coalitions. In her graduate work, Megan's belief in the power of community as a tool for positive change deepened.
Megan has spent years working in the nonprofit space particularly around rural poverty and food insecurity. A lifelong book lover Megan believes that taking a moment to glimpse into someone else's life through literature, conversation, or relationship is the best way to understand the complex world we live in and be compassionate change-makers.
When she is not at work she can be found spending time with her sweet husband, Zachary, walking her rescue dog, devouring a good book, or trying a new pie recipe (each month she tries to perfect a new flavor and to date has four recipes she can whip up from scratch). Megan and Zachary firmly believe their life and their home is a gift to be used serving and loving those around them and try to live with intentionality to steward that gift well.
CHANGE A LIFE TODAY
As long as generational poverty continues, none of us can truly rest. It doesn't take much to change a life, Get in touch today and start making the difference.