LEADERSHIP TEAM
Carl Martin - Executive Director
"I love to play golf, read and eat bacon cheeseburgers."
"I mentor because I was mentored by the best and because people never get anywhere in life by themselves."
A Life Coach with VisionVentures, Inc., Carl specializes in performance goal-setting and relational skill development for Pastors, executives, business leaders, and other entrepreneurs.
Carl graduated from Clemson University with a degree in Political Science where he was the smallest player on Danny Ford's National Championship Football Team; Carl played all four years and lettered two years. He played in every game his junior and senior seasons as Clemson posted a 21-1-1 record. Head Coach Danny Ford is quoted as saying about Carl in 1981,
"Carl is a super person. Pound for pound he is the toughest player on the team and possibly the strongest. He has a lot of pride in his team and this school. It means a lot to us to have a player like Carl Martin on this team."
Carl completed his Masters Degree from Southwestern Baptist Theological Seminary in 1987 and earned his Doctorate degree from Southeastern Baptist Theological Seminary in 1998.
He has served two churches as Lead Pastor, planted a church and has worked for the South Carolina Baptist Convention on the Church Planting Team. He recently completed a role as Associate Pastor of Adult Ministries at Low Country Community Church in Bluffton who welcomes 2000 people in their weekend worship venues.
He is celebrating 34 years together with his wife, Peggi Nabors Martin of Greenville SC, and the Martin's have one adult daughter, Lauren.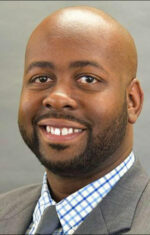 Ricardo Perry - Program Director
Ricardo was born and raised in the heart of North Charleston, South Carolina and overcame academic obstacles to graduate from Septima P. Clark Academy in 2002.  He is currently completing his Bachelor of Science degree in Criminal Justice.
In 2005, Ricardo began working at Palmetto Behavioral Health in Summerville, where he developed his passion to work with at risk youth. In 2007, he became a Police Officer for the City of Hanahan, and later became a School Resource Officer for Hanahan Middle School, where the true intent of his life's purpose was revealed.
As a result, in 2010, Ricardo, started The Distinguished Gentlemen's Club, a program with a mission to guide young men in grades 3-12 through the often challenging transitions from childhood to manhood through intentional mentoring. The aim of the Club was to raise servant leaders in the community through character building, promoting positive relationships and establishing effective goal setting practices.
Ricardo's honors include:
Police Officer of the Year for the City of Hanahan in 2011
School Resource Officer of the year for the State of South Carolina in 2011
The Distinguished Gentlemen's Club received several grant awards from Senator Marlon Kimpson and has been recognized by Senator Tim Scott.
Recognition by The Omega Psi Phi Fraternity for service to youth development.
Award of Merits – Fraternal Order of Police Lodge #3 in 2011
Author of "A Gift Worth Fighting For"
With the support of his devoted wife, Kristen, beloved children Symone, Ricardo Jr. and little brother, Amonte, Ricardo continues to press forward with the mission of expanding and extending opportunities to reach the next generation of servant leaders.  In his leisure time, Ricardo enjoys watching good movies, sitting by the water's edge and spending quality time with his family.
Ricardo, firmly believes that his life is not his own and that all he does is in service to his God. and lives by the words of his risen Lord, "I am here, not to be serve but to serve others."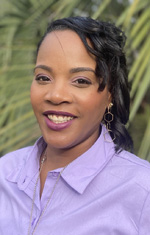 Tasia Murray - Executive Assistant
Tasia was born in Trenton, New Jersey but traveled all over the US due to her parents' employment with the military. This type of upbringing afforded her the opportunity to see different cities and make many friends as a child. She eventually settled down in Savannah, Georgia where she graduated with honors from Herschel V. Jenkins High School. Working as a lifeguard for the City of Savannah was where Tasia's heart for children bloomed. Something as simple as providing an outlet for at risk children motivated her to work with the City of Savannah's Recreation Department for over 15 years. 
While attending college at Savannah State University, Tasia was the Parent Liaison for a youth mentorship program through an organization at her school called Commissioned 2 Love Campus Ministries. Her work with the parents in their homes helped with promoting development in their children outside of the classroom. She is still friends with the parents and their families to this day.
After graduation, Tasia moved to Sacramento, California where she interned for the California State Assembly under the administration of former Governor Arnold Schwarzenegger. She also worked at a lobbying firm, Noteware Government Relations, where she was trained on being an advocate. It was while living in California that she helped in starting The House of Plight, a single mother's home where she served as the Assistant Director. Being a single mother herself, she was able to help the residents with raising their children while pursuing their dreams of completing school and working, just as she did. Tasia lives with her daughter Tahlia. When she isn't working, she enjoys relaxing with Tahlia challenging kids to a race in the pool. She is currently undefeated!
CHANGE A LIFE TODAY
As long as generational poverty continues, none of us can truly rest. It doesn't take much to change a life, Get in touch today and start making the difference.