TAMARA THOMPSON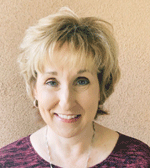 Tamara Thompson grew up in Salamanca, NY, the only city in the United States that lies entirely on an Indian Reservation.  After receiving both accounting and computer science degrees from Thiel College, she settled in Pittsburgh, PA, and began her career as a Certified Public Accountant.  In 2005, Tamara relocated to the Lowcountry where she and her husband, Mike, founded a CPA firm in Bluffton, SC. In addition to the services she provides to small business and individual clients, Tamara offers professional services to many area nonprofit organizations.  She is a member of the Not for Profit section of the American Institute of Certified Public Accountants.
Tamara's greatest passions are her Christian faith, her family, children, and adolescents.  She is a member of Lowcountry Community Church where she is an active volunteer in children's ministry.
While living in Pittsburgh, Tamara became an avid Steelers fan and that passion still continues.  She also enjoys reading, cooking, gardening, and long walks with her dogs.
Tamara also serves on the Board as Treasurer of Mental Health America – Beaufort/Jasper County. It is a day treatment program designed to empower people with mental illness for whom recovery is a goal. She is excited about being on the board of RCI and is fully committed to helping highly vulnerable youth.